¿Dónde está Santa?
It's nearly Christmas,
but Santa can't be found anywhere!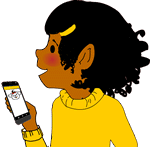 Join Santa's grandchildren, Lolly and Larkin, in another Christmas adventure as they set out on a quest to search the house for him.
The story is perfect for learning and practising the names of all the rooms!

There are also 8 missing puppies to find and identify - and then it's time for Christmas preparations...!