Poetry for a Change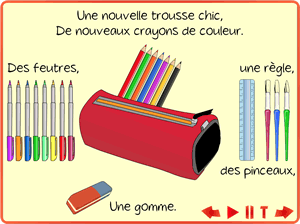 The language focus is on classroom materials and the poem is supported by printable activities including cloze, word mats and playing cards.
Having problems viewing the interactive version on your computer or laptop? If you are using Chrome and you're seeing the movie rather than the interactive version, follow the 4 steps below to enable Flash.

1. Click the lock on the left of the address bar.
2. Change the Flash setting to Allow.
3. Click cross at the top right to close window.
4. To apply the updated setting, click Reload button which appears at the top of the page.
This will enable Flash on all pages in the website and it's a good idea to do it as soon as you enter the home page. However, once you close Chrome your preferences are not saved so you'll need to allow Flash again the next time you open the website. It's much easier with Safari! Find out more here.