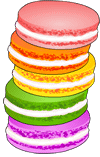 Enjoy this simple, relaxing story about a picnic which gradually unfolds as vocabulary is introduced item by item to a musical accompaniment.
The story is about a picnic, but as it's a very posh one with full table settings (including napkins!) it's equally suitable for use in café or restaurant topics or daily routines.
The first 3 sections are available to preview. Subscribe to enjoy the full story and download the printable resources.