Dyádo i Ryapa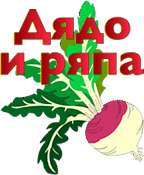 We're delighted to present a Bulgarian version of The Enormous Turnip, thanks to Boyan Maga school!
The story is written using the Cyrillic alphabet.
The title looks like this:



It means Grandfather and the Turnip and sounds like Dyádo i Ryapa. If you don't speak Bulgarian, it's fun to listen to the story and try and work out some of the words and letters. Have you worked out what a letter D looks like in Cyrillic script yet?

Don't forget to look out for the mouse hiding in each page!