La Chasse aux Oeufs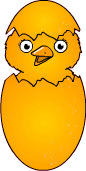 A simple animated story for Easter featuring scenes from some of our favourite stories.
Join Lolly and Larkin in their search to find the 9 coloured eggs hidden in the scenes!

The Easter bunny will help you with secret clues...
... but you need to know your prepositions!