Weihnachtswünsche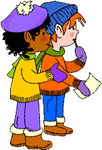 'Christmas Wishes' is our new Advent Calendar story for 2016, featuring Santa's grandchildren Lolly and Larkin, and their amazing adventure around the world with Weiβfeder, the snow goose.
The story unfolds day by day from 1st to 16th December to allow schools to reach the end of the story before Christmas.
Have fun practising the language used in the story with six sets of printable playing cards and download the images from the story - preview a sample below or subscribe to download the whole gallery.