Christmas Wishes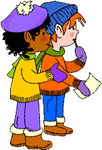 'Christmas Wishes' is our second Advent Calendar story featuring Santa's grandchildren, Lolly and Larkin, and their amazing adventure around the world with White Feather, the snow goose.
UPDATE! There is no date restriction on the story this year, so you don't have to wait until December to start the adventure..!
Click the image to preview, or subscribe to enjoy the whole story straight away.
Subscribers view all stories full screen in a new window and have access to all downloadable resources.