La Búsqueda de
Huevos de Pascua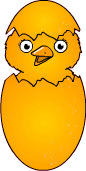 A simple animated story for Easter featuring scenes from some of our favourite stories.
Join Lolly and Larkin in their search to find the 9 eggs hidden by the Easter bunny!

There's always a secret clue to help if you get stuck - just click on the Easter bunny button at the bottom of each page to listen to the clue.
Also available in English, French and German.
The complete story is available free of charge.Subscribers log in to enjoy the story full screen and download the resources. Please contact us if you have any queries about subscribing.